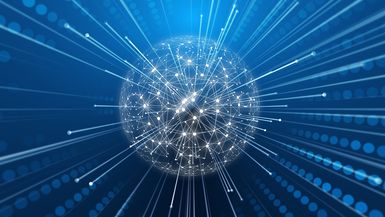 With the digital event series Dialog Nanotechnology – Trends and Perspectives, we want to discuss these and other current and relevant issues with industry and public authority representatives in order to develop a general and sustainable strategy for the effective and safe implementation of nanotechnologies.
In two-hour workshops, the respective topics will be presented by experts from different perspectives (authorities – industry – research) and then discussed in a joint dialogue round.
As key technologies of the 21st century, nanotechnologies and new materials are an important driver of innovation. As cross-sectional technologies, they fertilize central industrial sectors such as medicine, renewable energies, power electronics and the maritime economy. In addition, they are also an important factor for the competitiveness and innovative ability of small and medium-sized companies.
Although nanotechnologies have already been successfully used for decades in a variety of applications and products, many questions remain unanswered and thus the numerous opportunities continue to face corresponding challenges and risks. For example, the versatile application possibilities of nanotechnologies lead to a variety of products that is difficult to manage and no longer clearly identifiable, classifiable and regulatory. Many of these products are perceived in the public eye as revolutionary and profitable on the one hand, and as threatening or dangerous on the other. Thus, "the" nanotechnology raises a number of socially relevant questions:
Innovation capability: How can small companies also benefit from the economic potential of nanotechnology?
Regulations: Can regulations control the risks of nanotechnologies without jeopardizing their economic potential?
Safety: What effects can nanoparticles have on our health and how can safety for humans and the environment be ensured?
Recycling: Do nanomaterials pose a risk to the environment or can they help advance the energy transition?
Safe-by-Design: Who bears which responsibility in the safe handling of new materials and can regulations force this?
Upscaling: What challenges arise in scaling up research and development results to industrial scales?
Communication: How do we communicate complex and sometimes contradictory information in order to achieve broad acceptance of new nanotechnologies?
Next event: Digitization in nanotechnology – Advanced and data-intensive methods.
When: January 18, 2024, 2:00 p.m. to 5:00 p.m.
Where: Virtual meeting
Digitization also offers a great deal of potential for nanotechnology. For example, the use of data-intensive methods for the development of nanomaterials can generate innovative new application possibilities and improve existing applications. In addition, linking existing data offers the chance to better predict possible risks of nanoparticles for human health and the environment and – ideally – already in the planning phase. In practical implementation, however, there is often a lack of high-quality data as well as sustainable maintenance and open access to databases.
The Dialog Nanotechnology event series therefore also addresses critical points in the use of data-intensive methods and openly discusses the potentials for research, authorities and industry with the various experts.
---
Agenda
14:00 Einführung und Begrüßung
14:10 Digitaler Produktepass
Dr. Harald Bresch, Bundesanstalt für Materialforschung und –prüfung (BAM)
14:35 Datenbanken zu Nanomaterialien: leicht erhältliche Informationen für Jeden?
Prof. Dr. Harald Krug, NanoCASE
15:05 Vernetzung von Datenbanken
Dr. Felix Bach, Leibniz-Institut für Informationsinfrastruktur (FIZ Karlsruhe)
15:20 Anwendungsbeispiel automatisierte Bildauswertung
Dr. Ulrich Tillich, Oculyze GmbH
15:35 – 17:00 Gemeinsamer Dialog
---
For more information please visit Dialog Nanotechnology.
The event takes place under the auspices of Nano in Germany e.V. and is organized by the Cluster Nanotechnology, the North German Initiative Nanotechnology e.V. and Leibniz Advanced Materials Safety.