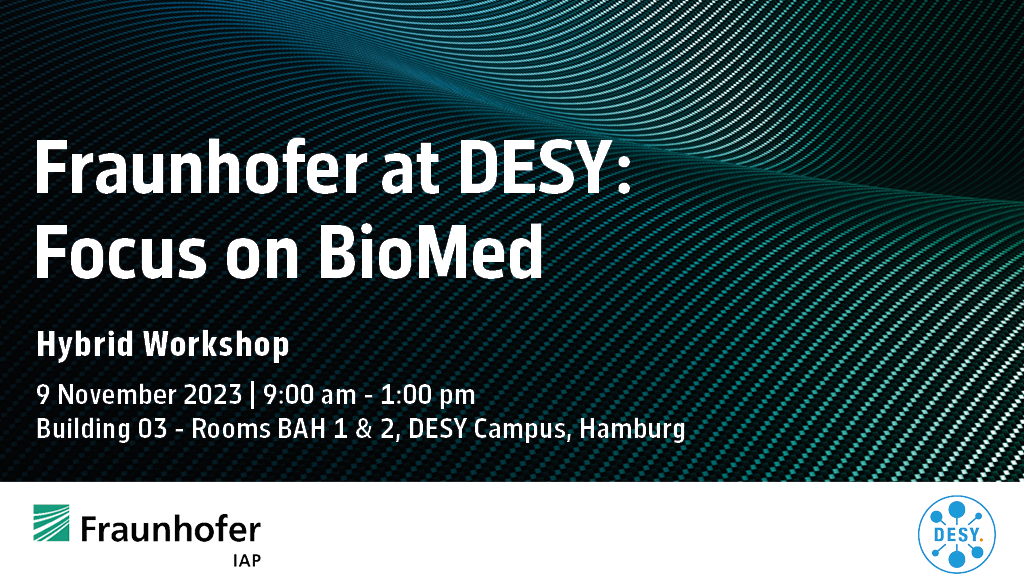 Fraunhofer, DESY and Campus partners EMBL & HEREON are planning to intensify their cooperation in several fields including research on life & health. We would like to cordially invite you to the hybrid workshop
Fraunhofer@DESY Campus – Focus on BioMed
on the 9th of November 2023, from 9:00 am to 1:00 pm

also, proudly supported by NINa e.V. The workshop invites professionals from different disciplines to exchange on current activities at PETRA III and future possibilities at PETRA IV in the field of life science and pharma, including areas related to imaging, diagnosis, material and treatment of diseases, and will provide insights on activities dealing with human and environmental health and materials science. Thus, this Fraunhofer workshop will be a perfect platform to share, experience, foster collaborations and projects across health care, pharmaceutical, biotech & diagnostic companies with hospitals and academic institutions.
Showcasing Science: Keynote speeches will showcase the unique research and service possibilities of Fraunhofer Institutes such as the Institute for Applied Polymer Research IAP and the Institute for Translational Medicine and Pharmacology ITMP and explore possible synergies between Fraunhofer and DESY including its campus partners EMBL and HEREON.
Teaming up for solutions: By debating current (industrial) challenges, we hope to learn how to help solve them by better aligning scientific service offers of Fraunhofer and the Hamburg Campus partners and "team up for solutions".
So please register for this exciting exchange, which also includes a guided tour of the accelerator PETRA III.


You can download the flyer for the event including the program here.
Kind regards
Neus Feliu Torres and Katrin Zerbe
neus.feliu.torres@iap.fraunhofer.de
katrin.zerbe@desy.de

Program:
09:00 a.m.
Welcome & general introduction
Status Quo Fraunhofer Cooperation & PETRA IV concept
09:20 a.m. Short Key Notes on current and future research possibilities
"How X-ray-based methods can help to improve nanoparticle-based drug delivery systems"
Neus Felliu Torres (Fraunhofer IAP-CAN)
"Imaging of metal distributions in cells and tissues at beamline P06"
Gerald Falkenberg (DESY)
"The role of antibiotic influx and efflux in antimicrobial resistance of gram-negative bacteria" Björn Windshügel (Fraunhofer IMPT)
"Radiomics and advanced medical image analysis" Fabian Kiessling (Fraunhofer MEVIS)
"A new tool for faster and more efficient development of new mRNA nanomedicines" Melissa Gräwert (EMBL & BioSAXS)
10:30 a.m. Coffee break
10:45 a.m.
Discussion: the future of Fraunhofer & DESY campus cooperation possibilities
1) What are the major challenges in your work that might be addressed with a synchrotron?
2) What requirements need to be fulfilled to enable a fruitful collaboration (e.g. availability of specific competences, infrastructure etc., cooperation, funding)?
11:30 a.m. Wrap up, Lunch followed by Guided Tour of PETRA III